Updated: 2010-10-31, 15h20

To get the very best out of your Vaio F Series' LCD monitor, a colorimeter can do wonders for optimizing brightness, true colors, contrast & saturation. Many F11, F12 & F13 owners noted the poor results with the F's default Sony monitor profile & auto settings. If you can't afford a colorimeter or don't see the need for one, you could try some of these profiles to see how different your LCD may look with just a few teaks. Naturally the optimal results is obtained with a custom profile made for YOUR specific hardware variations with said colorimeter.

Eizo makes expensive high-end monitors and have this free monitor testing utility with a multilingual interface: EIZO Monitortest. It's small & standalone (means no install needed) and fun to run. In my case the colored crosses panel does not seem to form a perfect straight line but the rest of the tests results is next to perfect after monitor calibration. Free, very small & standalone Dead pixel tester with display aids, exerciser and illusions.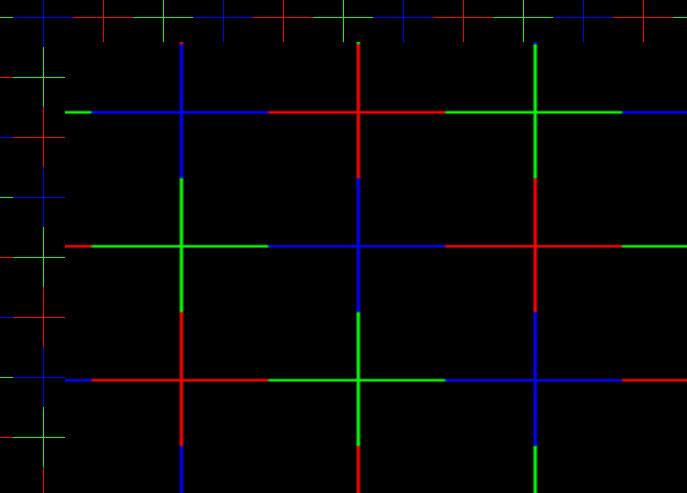 Free monitor profiles
created by Vaio F11 & F12 owners in this thread using various colorimeters devices & software. YMMV because of normal differences between hardware, even for identical GPU, monitors, etc.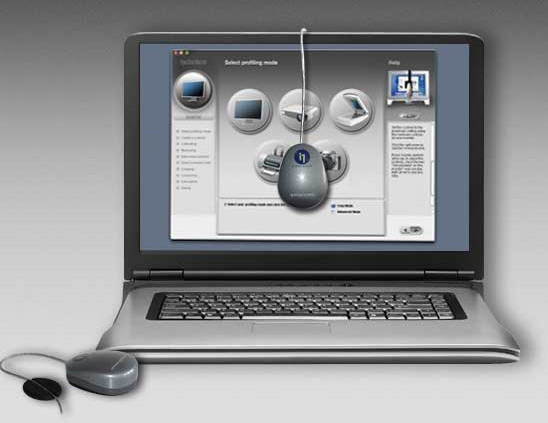 For the
VAIO VPCF11 US 1080p
and EU 1080p
semi-glossy
:
Quote:
The calibration profile for the glossy-screen in US also works for the
glossy screen in Europe
. Thanks for the profile!
Update:
Jef sent me this via PM: "The new profile that Gandalf posted, one that's calibrated on a semi glossy EU-screen works better than the US-version" (on his EU semi glossy 1080p display).

VAIO F13 owner (Canadian/US 1080p Full-HD semi-glossy) xingreen reported here: "...I downloaded pretty much all of the ones on the guide and tried them out. That one looks good (Native_5900K_2.2_109cd-m2.rar). But I ended up using the Grandalf one which has a slightly darker tone that that one. Try and see which one is visually more pleasing..." and here: "...After changing the color profile according to guide... the color is much richer and no longer look washed out..."
-
slrosenfeld's monitor calibration profile &
how-to
install
(made with Spyder3Elite)
Note:
there's a typo in step 6, path should be: C:\Windows\System32\spool\drivers\color
- Gandalf_The_Grey's monitor profile (made on a EU F semi glossy 1080p with Spyder3Elite)
-
Link updated 2010-10-10:
count_schemula's monitor profile (made with the older Spyder2Express, the newer colorimeter version is the Spyder3Express
)
- Joe Bleau's monitor profiles (made with X-Rite i1display 2): Profiles_Joe_Bleau.rar
9 profiles
@ different color temperatures, including Native_5900K_2.2_109cd-m2.ICC which is made using the US F's
native white point
& low brightness setting following Damien Symonds' i1Display2 calibration recommendations
:
Quote:
- "You may have read that 6500K is the ideal target for digital imaging, and that is possibly true. But for a screen that doesn't have color controls, it's best to try Native first."
- "Gamma 2.2 is the definitive standard now"
- "Luminance: No higher than 120cd/m²: Choice of Luminance target is subject to (a) your lighting conditions, (b) your screen-to-print matching, and (c) your personal preference.
I recommend 100, then edit some photos and get some prints done. You'll quickly know if you need to go up or down. I've got my laptop below 50, and it's great.
DON'T go above 120. I don't care how dim it seems - you'll soon get used to it, and wonder how you ever tolerated it so bright before."
Follow slrosenfeld' how-to or this one with screen captures to try the profiles. On my Vaio_F11, Native_5900K_2.2_109cd-m2 is the
most accurate color
representation profile so far. I want accurate for photo editing, I don't care for pretty.

I also included two electronic GretagMacbeth ColorChecker charts (sRGB & Adobe RGB color spaces) so you can verify the end result: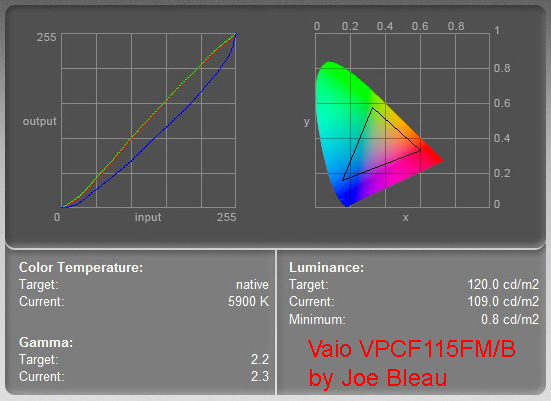 As MelodyMaster wrote in a post
here
, the F11_North America 1080p OEM profile is overly skewed to blue & the screen capture above shows that the calibration program had to
pull down the blue
input/output a lot to produce the accurate color custom profile.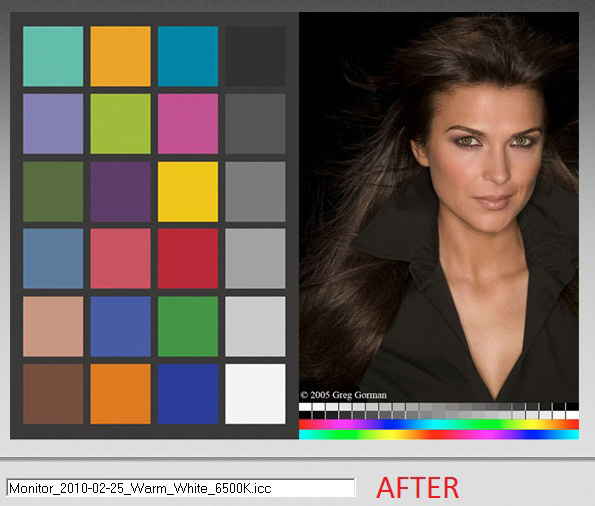 Give this a try on your US 1080p if you don't have a colorimeter like the i1Display2 than can measure Luminance: Fn+F6 several times > to set to the max brightness > lower to about 109 cd/M2 by going down two clicks with Fn+F5.
-----------
For the
VAIO VPCF11 Euro, UK, Australia, India & Japan Premium matte (anti-glare) 1080p display
:
- matt800's profile (made with Spyder3Elite)
-
Cheek's
3
profiles
(made with X-Rite i1display 2)
Quote:
Note:
if you want to share your monitor profiles, you can PM me the .rar or the URL & will update this post to include yours.
Note that if you buy a colorimeter to get the best of your F viewing experience, you can also use it on other computers & charge your friends some $ or drinks to recoup the investment.

OK, any EU Premium1080p owner who wants the US backlit keyboard gadget, I'll trade you my US F display, throw in a bottle of premium Costa Rican rum & pay for the shipping!

A good read: Monitor Calibration: Who needs it? Talks about the more affordable
Spyder2Express
as the X-Rite i1Display 2 and Spyder3Elite are pricey.
This is fun: X-Rite Color IQ Test. Could you even see 100% of the Adobe RGB color space?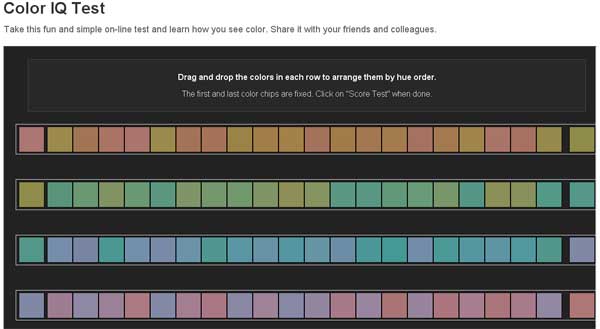 *******************************
VAIO F Series US glossy vs. EU Premium Displays
Quote:
I didn't found any post were clearly stated that the screens are different in the same country...
ALL 900p (16.4" - 41.6cm,1600 x 900 pixels) F LCD's are glossy. I don't know if they are identical or not, I did not see any model # nor a side-by-side comparison, nor color space coverage data so far.
What can be found on some prebuilt models & as an option in some Sonystyle worldwide sites is a 1080p display (16.4",1920 x 1080 pixels):
- in EU, the Vaio_Display Premium LCD is matte (anti-glare) and covers 100% of the Adobe RGB color space.
To learn more about color spaces:
- Color space:
"...A color model is an abstract mathematical model describing the way colors can be represented as tuples of numbers, typically as three or four values or color components (e.g. RGB and CMYK are color models)... This "footprint" is known as a
gamut
, and, in combination with the color model, defines a new color space. For example,
Adobe RGB and sRGB
are two different absolute color spaces, both based on the RGB model."
- RGB color model: ...is an additive color model in which red, green, and blue light are added together in various ways to reproduce a broad array of colors. The name of the model comes from the initials of the three additive primary colors, red, green, and blue.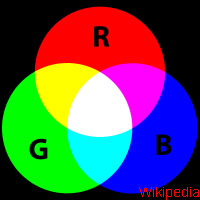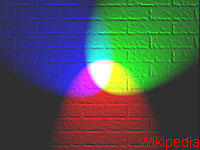 - RGB color space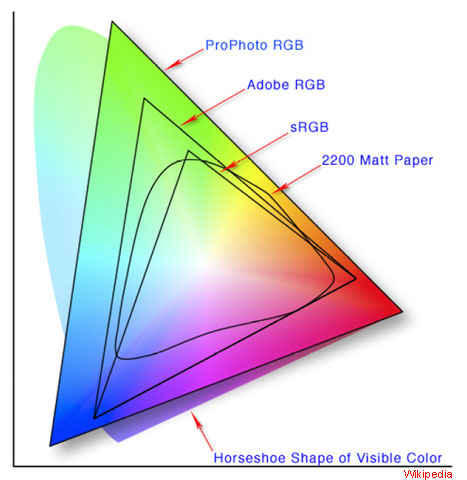 - Adobe RGB color space
"... encompasses roughly
50% of the visible colors
specified by the Lab color space ...It was designed to encompass most of the
colors achievable on CMYK color printers
"
.
- sRGB color space:
"...is a standard RGB color space created cooperatively by HP and Microsoft in 1996 for use on monitors, printers, and the Internet".
- sRGB vs. Adobe RGB by Ken Rockwell, photographer:
"The same old-wives-tale about Adobe RGB having a broader range of colors has been circulating on the internet since the 1990s..."
.
In the North American market, the
consumer is driving the glossy finish & the low price point
is a very important criteria. Go to any big box store in USA with laptops on display & try to find a non-glossy screen for notebooks in the same price range as the F and with a similar sized LCD. My take on why the F 1080p is semi-glossy in North America.
I would say that my US 1080p display is semi-glossy compared to some high-gloss laptop displays I've seen. While
it does not cover 100%
of the Adobe RGB color space, the coverage is wide enough for me to do critical photo editing & once the monitor is calibrated, the
color representation is brilliant with accurate true colors
, proven with X-Rite Colorchecker charts both electronic on the desktop vs. a physical one hand held next to the F's display like this photo from the interesting (especially if you use Photoshop) Introduction to Color Management article: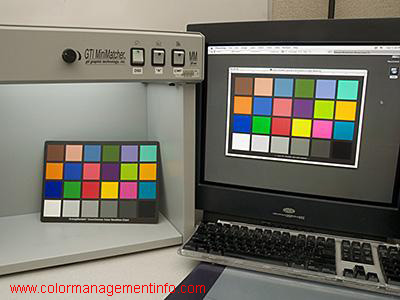 "A monitor profile's accuracy is checked against a physical sample".
Very few people
could say which monitor covers 100% or not of that Adobe color space in a side-by-side comparison. I would like the EU display but I love the US price point.

By fluke, for their EU F Premium Display review (VPC-F11Z1/E), notebookcheck.net used the exact same software & colorimeter as I did for my US 1080p! (X-Rite i1display 2) So finally we have a way to compare these displays & their Adobe RGB color space with a
visual representation
.
Their end result report screen grab for
EU 1080p matte vs. my US 1080p semi-glossy
: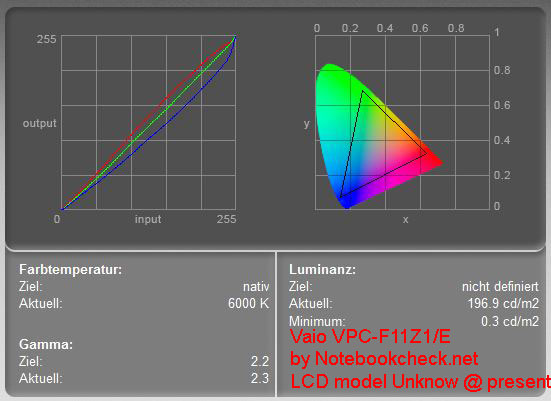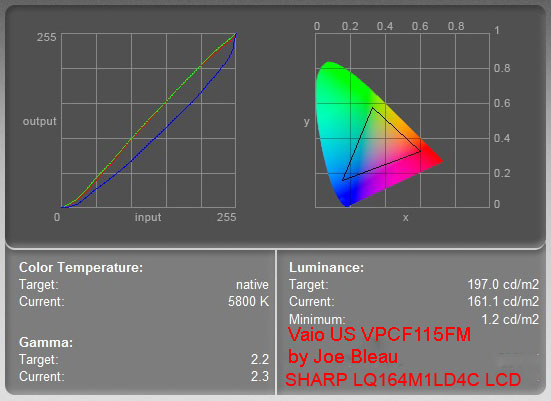 This is as close as I could get to Notebookcheck's Native 6000 K white point & 197 cd/m2 luminance as with Fn+F5 or F6, I either get 161 or 220 cd/m2 but compare the color space: the black triangle represents the actual LCD's coverage of the color gamut, much wider on the EU. The cd/m2 set to max on mine: 248.4 vs. the 265 cd/m2 reported in their review but that's way to bright for daily use anyway.
Edit:
This notebookcheck.pl VAIO_F11M1E / H review in Polish is just out & contains my US 1080p LCD's model # as seen in the Vaio_F_Series: How To Remove the LCD + Webcam Angle Correction post: LQ164M1LD4C.
From that article & this is quite interesting as it confirms my gamut test above
and
that the
EU
1080p non-premium is the same as in the North American market: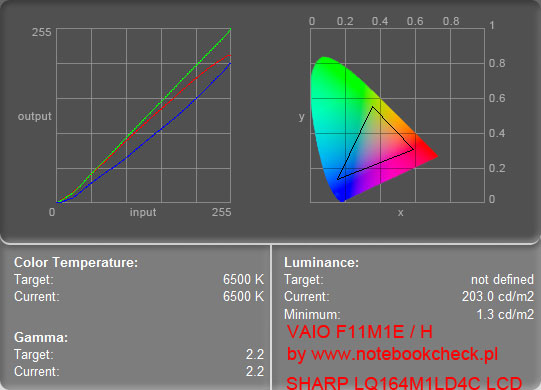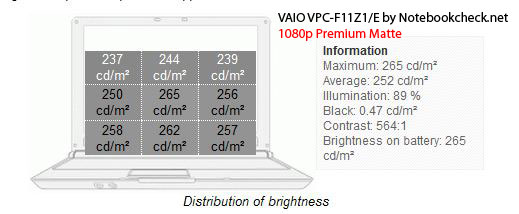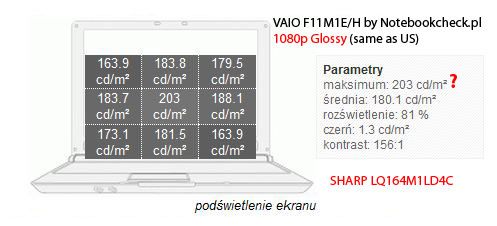 Note that I measured a higher maximum luminosity of 248.4 cd/m2 with a contrast ration of only 128.833 to 1 (248.4 / 1.8) for the exact same LCD model: SHARP LQ164M1LD4C.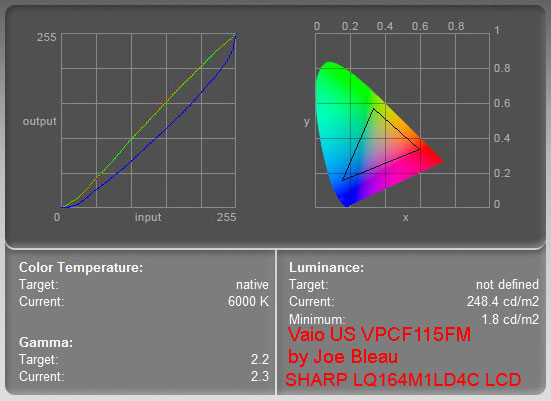 I've never seen a notebook review so far where the brightness distribution was perfectly even. Here are for example some screen captures from reviews by notebookcheck made with
pro grade luminance measurement tools
: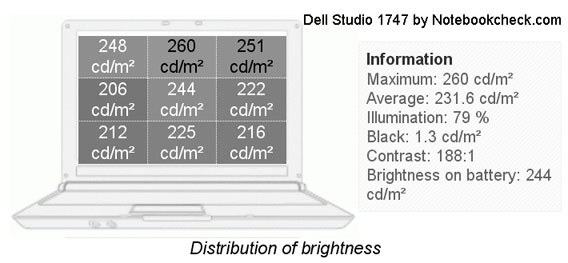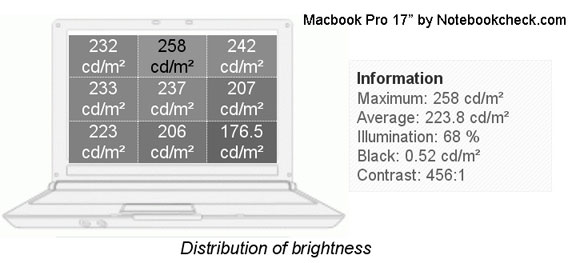 __________________
F Series Info Unification Post >>
Search This Thread
before asking a question!

| Vaio F Series Windows 7 Clean Install Guide | VPCF11 How To Replace the LCD Display | Secondary Hard Drive in VAIO_Optical Drive Bay | How to Replace Hard Disk Drive HDD VAIO VPCF Series | VAIO VPCF115FM/B i7-720QM 6GB 1080p GT 330M | Monteverde Costa Rica |

Poll F Owners Display
----------------------------------------------------------------------------------------------------------------
How to install a secondary hard drive in the optical drive bay of a VAIO VPCF Series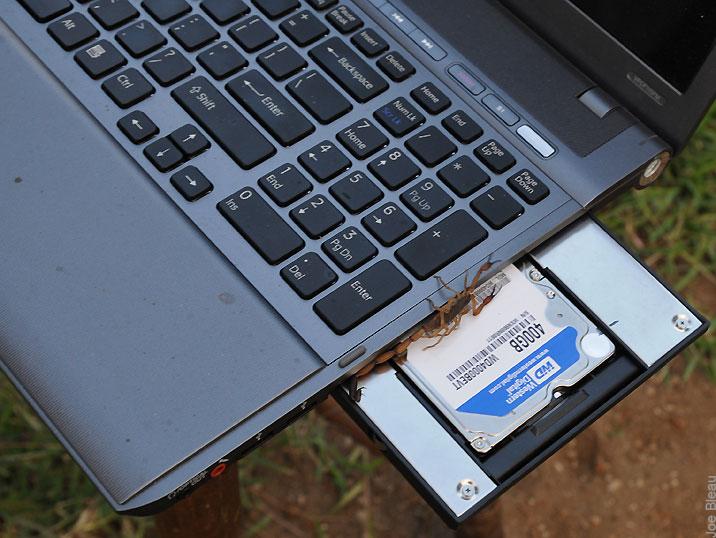 ------------------------------------------------------------------------------------------------------
How to Replace the Hard Drive (HDD) of a VAIO VPCF Series Laptop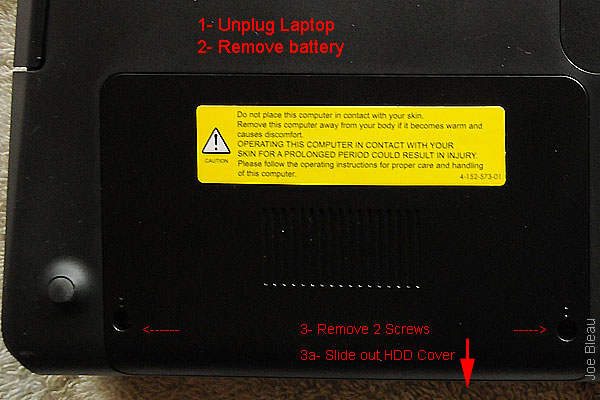 --------------------------------------------------------------------------------------------
Vaio F Series Laptop How To Replace the LCD Display & Inverter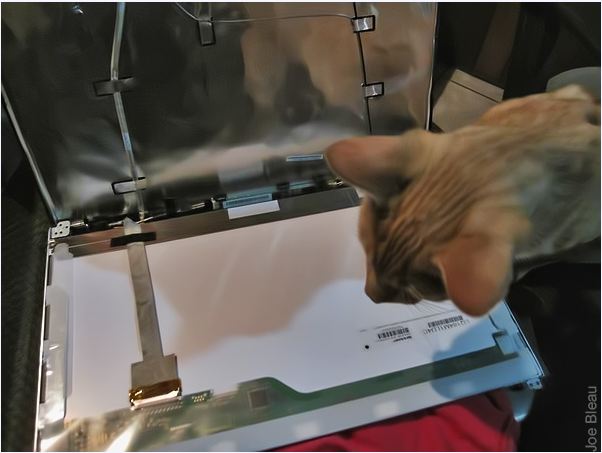 -----------------------------------------------------------------------------------------------------
Vaio F Series Windows 7 64-bit Clean Install Guide Using OEM Recovery Discs

-----------------------------------------------------------------------------------
Vaio F Series - How To Replace the Keyboard & Clean the Fan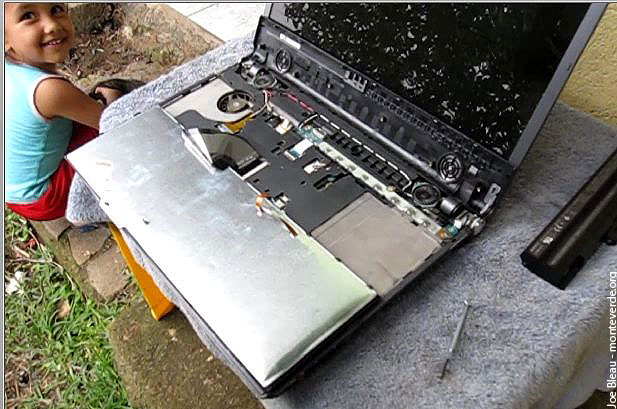 -------------------------------------------------------------------------------------------------------
How To Guides for the Vaio F Series: | Clean Install using the OEM Recovery Discs | Calibrate the Monitor | Replace the Display and/or the Inverter | Replace The Keyboard or Clean the Fan | Add a Secondary Hard Drive | Replace the Main Hard Drive | VAIO F Series Disassembly Guide - Teardown | 3rd Party Battery: $70/4 hours Battery Life!

You can contribute to the VaioFSeries.com mini-site I'm currently building by clicking
Not easy to put
together:
The Crazy Matrix
of all the
Vaio F Series Models
so far!
VPCF111FX
VPCF111FX/B
VPCF111FX/H
VPCF112FX
VPCF112FX/B
VPCF112FX/H
VPCF113FX
VPCF113FX/B
VPCF113FX/H
VPCF114FX
VPCF114FX/B
VPCF114FX/H
VPCF115FM
VPCF115FM/B
VPCF116FX
VPCF116FX/B
VPCF116FX/H
VPCF117FX
VPCF117FX/B
VPCF117FX/H
VPCF1190X
VPCF119FX
VPCF119GX
VPCF119HX
VPCF11AFX
VPCF11AFX/B
VPCF11BFX
VPCF11BFX/B
VPCF11CGX
VPCF11CGX/B
VPCF11DGX
VPCF11DGX/B
VPCF11EGX
VPCF11EGX/B
VPCF11FGX
VPCF11FGX/B
VPCF11GGX
VPCF11GGX/B
VPCF11HGX
VPCF11HGX/B
VPCF11JFX
VPCF11JFX/B
VPCF11KFX
VPCF11KFX/B
VPCF11KFX/H
VPCF11LFX
VPCF11LFX/B
VPCF11LFX/H
VPCF11MFX
VPCF11MFX/B
VPCF11NFX
VPCF11NFX/B
VPCF11NFX/H
VPCF11PFX
VPCF11PFX/H
VPCF11QFX
VPCF11QFX/B
VPCF11QFX/H
VPCF121FX
VPCF121FX/B
VPCF121FX/H
VPCF121GX
VPCF121GX/B
VPCF121GX/BC
VPCF122FX
VPCF122FX/B
VPCF122FX/H
VPCF123FX
VPCF123FX/B
VPCF123FX/H
VPCF125FX
VPCF125FX/B
VPCF125FX/H
VPCF126FM
VPCF126FM/B
VPCF127FX
VPCF127FX/B
VPCF127FX/H
VPCF1290X
VPCF12AFM
VPCF12AFM/H
VPCF12BFX
VPCF12BFX/B
VPCF12BFX/H
VPCF12CFX
VPCF12CFX/B
VPCF12CFX/H
VPCF12DFX
VPCF12DFX/B
VPCF12FFX
VPCF12FFX/B
VPCF12GFX
VPCF12GFX/B
VPCF12HFX
VPCF12HFX/B
VPCF12JFX
VPCF12JFX/B
VPCF12KFX
VPCF12KFX/B
VPCF12LFX
VPCF12LFX/B
VPCF12LFX/H
VPCF12LGX
VPCF12LGX/B
VPCF12MGX
VPCF12MGX/H
VPCF12NGX
VPCF12NGX/B
VPCF12PGX
VPCF12PGX/B
VPCF12QGX
VPCF12QGX/B
VPCF12RGX
VPCF12RGX/B
VPCF12SGX
VPCF12SGX/B
VPCF12THX
VPCF12THX/H
VPCF12UGX
VPCF12UGX/B
VPCF12VGX
VPCF12VGX/B
VPCF12XHX
VPCF12XHX/B
VPCF12YFX
VPCF12YFX/B
VPCF12YFX/H
VPCF12ZFX
VPCF12ZFX/B
VPCF12ZFX/H
VPCF132FX
VPCF132FX/B
VPCF132FX/H
VPCF133FX
VPCF133FX/B
VPCF133FX/H
VPCF134FX
VPCF134FX/B
VPCF134FX/H
VPCF136FM
VPCF136FM/B
VPCF136FM/H
VPCF136FX
VPCF136FX/B
VPCF136FX/H
VPCF137FX
VPCF137FX/B
VPCF137FX/H
VPCF1390X
VPCF13AFX
VPCF13AFX/B
VPCF13BFX
VPCF13BFX/B
VPCF13CGX
VPCF13CGX/B
VPCF13DGX
VPCF13DGX/B
VPCF13EFX
VPCF13EFX/B
VPCF13FGX
VPCF13FGX/B
VPCF13GGX
VPCF13GGX/B
VPCF13HFX
VPCF13HFX/B
VPCF13JFX
VPCF13JFX/B
VPCF13KGX
VPCF13KGX/B
VPCF13LGX
VPCF13LGX/B
VPCF13MGX
VPCF13MGX/B
VPCF13NFX
VPCF13NFX/B
VPCF13PFX
VPCF13PFX/B
VPCF13QFX
VPCF13QFX/B
VPCF13SFX
VPCF13SFX/B
Joe Bleau's avatars: