How To Guides for the Vaio F Series: | Clean Install using the OEM Recovery Discs | Calibrate the Monitor | Replace the Display and/or the Inverter | Replace The Keyboard or Clean the Fan | Add a Secondary Hard Drive | Replace the Main Hard Drive | VAIO F Series Disassembly Guide - Teardown | 3rd Party Battery: $70/4 hours Battery Life!

VAIO F Series

Battery Replacement - Third Party
Linking to this page: if you can, please use keywords in your links to help search engines results & use the normal URL found in the status bar of your browsers.
Exception: forum.notebookreview.com (NBR) broke all links to the How-To articles hosted on this site by breaking all links starting with monteverde.org. If you want to link to this page on NBR, copy, paste & post this as a workaround:
[URL="http://tinyurl.com/26rgmc4"]VAIO_F Series 3rd Party Large Capacity Battery[/URL] Note: if you don't put an underscore between commercial words like Vaio F or F Series or Acer, etc., then NBR automatically parse the words with links to their coupons pages & break the intended links. Hence the Vaio_F.
I can't do individual support (except for longtime F owners friends) but if you want to write to make suggestions or comments about this page or just say Hello or thanks, please write to:

All the Vaio F content found here is in the process of being moved to this new dedicated mini-site: www.vaiofseries.com
Updated: 2012-09-17 >>> After 2 years the battery is still doing fine and zero problems with the sonybiospatch. Updated download links - Joe Bleau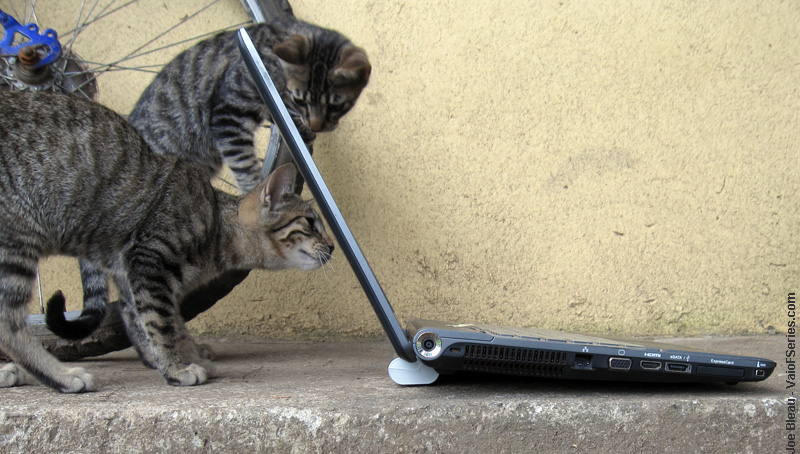 I was quite happy to find a 3rd party 9-cell large capacity battery replacement for my Vaio F Series notebook on Fleabay here from the reseller bt-flash (25,150 ratings & 99.2% score, not bad!) for $70 instead of the 9-cell VGP-BPL21 OEM which cost $200+! It has the same capacity & voltage specs as the discontinued (Oct. 2009) OEM VGP-BPL13. Mine is fresh as it was made on 2010/08 & that's important as you can read here on the informative batteryuniversity.com site:
Avoid purchasing spare lithium-ion batteries for later use. Observe manufacturing dates. Do not buy old stock, even if sold at clearance prices... - Like the VGP-BPL13!
I got 4 hours of battery life with it while surfing (wired, not Wi-Fi) & running Adobe Photoshop CS5 64-bit @ the same time for making screen captures of battery benchmarks. I could get more in light reading/text editing mode & will post benchmarks about it eventually.
Note that this VAIO F Series notebook is optimized which means that it's also optimized for battery life & a lower baseline fan rpm @ idle. I'm writing a page about how to do it specifically for extending battery life & customizing a power plan but meanwhile check the Clean Install using the OEM Recovery Discs guide. The VAIO F is a powerful DTR (Desktop Replacement) and as such has a limited battery life like all other DTR's but it's possible to extend it quite a bit (2x) compared to the OEM OS system settings & factory installed bloatware.
Even if your F11, F12 or VAIO F13 is not optimized you should get about 1/3 more battery life compared to your current OEM 6-cell VGP-BPS21A battery as side-by-side benchmarks illustrates below. Some Vaio F Series owners are complaining on forums about getting only 1~1.5 hours on battery with their F11, F12 or F13. Well it depends on what you are doing & how much cr@p processes & programs you have running in the background.

Just like printer manufacturers who don't want you to buy 3rd party ink cartridges (check HP ink profits), Sony does not want you to use cheaper battery alternatives & prevents the laptop from booting with a restriction in the BIOS an after fixing this pops a nag screen: "Replace the battery with a new one" in the Windows 7 64-bit OS if you have the Vaio ISBMgr.exe "utility" running which checks if you spent the money for a genuine Sony Corporation battery (c:\program files (x86)\sony\isb utility\isbmgr.exe). I tested the notebook & 3rd party battery with ISBMgr.exe running, rebooted then disabled ISBMgr.exe, rebooted & the nag screen was still popping up when booting into the desktop.
After using the free Autoruns & searching for battery under the Everything tab, I found the two culprits entries & disabled them: no more nag screen when booting! Sony is really sneaky & named them WBCBatteryCare which has nothing to do with the Battery Care function that limits the battery charge to 50 or 80% to prolong the battery's lifetime as I verified after that. You will know when your battery eventually degrades & gives you limted battery life, you don't need a nag screen to tell you that it's time to replace it.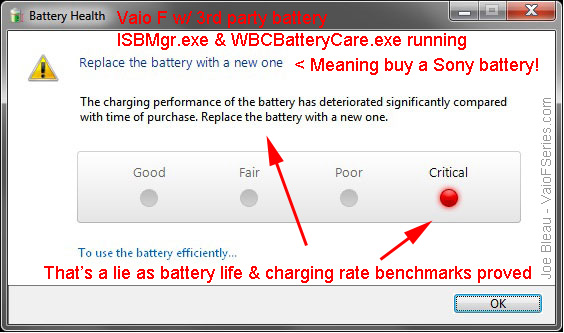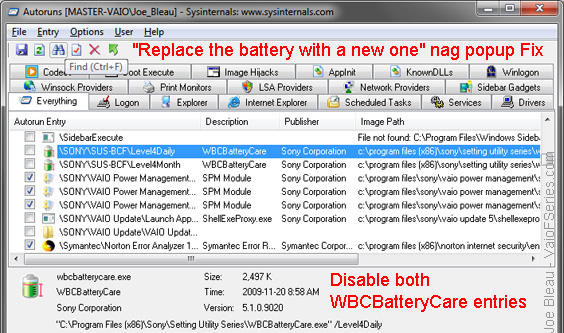 The Fleabay VAIO 3rd party battery came not with a simple driver as described on most Vaio compatible 3rd party battery pages but with a BIOS patch utility instead on a mini-CD that was not 64-bit compatible according to the HK seller's emails. After installing a Windows 7 32-bit OS on a spare HDD I have, it still would not work!

We emailed back & forth about 14 times and while it's funny, it's not easy to communicate in Engrish about technical stuff.
dear friend:
thanks for your message,we are sorry for this inconvenience to you.but the battery will not compatible with Win7 64 bit,but can compatible with Win7 32 bit.and we are sorry that we do not have an battery to fit?Win7 64 bit.so,can you use the?Win7 32 bit system?if not,you can return the battery to us,and then we refund you the payment.waiting for your answer.
thanks and regards
bt-flash
lyla
Those who know me know that I love a workaround challenge & while the reseller initially offered to refund the $70 battery but not the $16 worldwide shipping, he finally agreed to refund also the shipping cost because the BIOS patch was not compatible with my VPCF115FM. But before returning a battery that I had in my hand, way up here on a mountain cloud forest range in Costa Rica, I had to try everything first. I finally got it to work with an other Vaio BIOS patch found after quite a lot of research & trial & errors. Lucky you as you can go straight to the proper one with the info below & skip the jitters I had because a failed BIOS update could easily brick a notebook.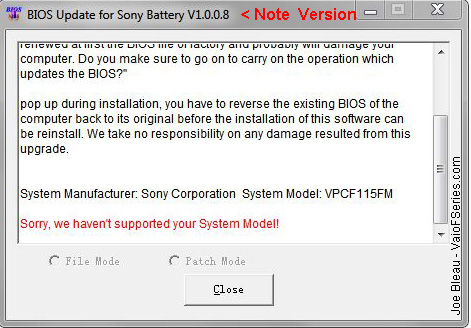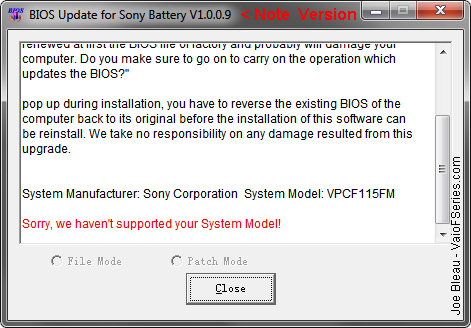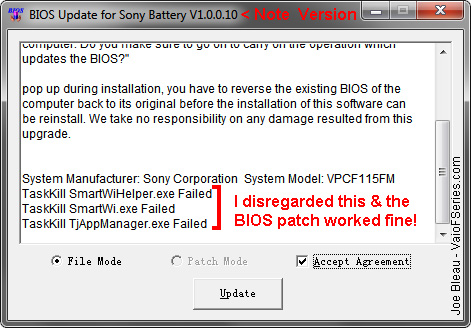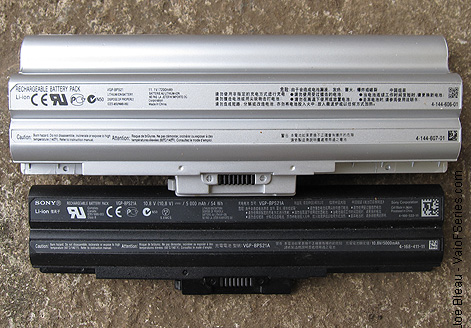 I found the zipped SonyBiosPatch_20100925.exe as well as the instructions on this page (or download here if the link is broken) and while it's for the smaller battery & my F model was not included in their list of compatible VPCF models, it worked perfectly on my F115FM:
"Compatible & Fit Models: VAIO VPCF112FX/B - VPCF115FG/B - VPCF116FGB - VPCF117FJ/W - VPCF117HG/BI - VPCF118FJ/W - VPCF119FC - VPCF119FC/BI - VPCF119FJ/B - VPCF11AFJ - VPCF11AGJ - VPCF11AHJ - VPCF11JFX/B - VPCF11M1E - VPCF11M1E/ - VPCF11MFX/B - VPCF11S1E - VPCF11S1E/ - VPCF11Z1E - VPCF11Z1E/BI - VPCF11ZHJ - VPCF127HGBI - VPCF135FG/B - VPCF136FG/ - VPCF137HG/BI - VPCF13Z1E/B"
I found a newer version which should work with more Vaio VPCF13xxx models: SonyBiosPatch_20110116.exe The version is "BIOS Update for Sony Battery V1.0.0.14". A VPCF136FM owner reported that none of the patches worked (incl. v14) and he had to return the battery.
An other trick is to search for Vaio VPCF on the battery lenmar.com site and check what is the latest BIOS patch they link to on the various battery pages.
Customized instructions for the Vaio F Series (Run at your own risk! There aren't any IMO because it only unlocks the battery & nothing else):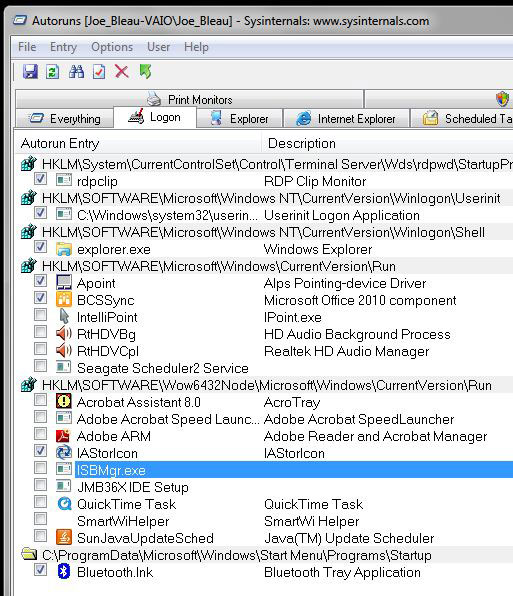 Disable the VAIO's genuine battery checker ISBMgr.exe "utility" with the fantastic, free, very small (605 KB) & portable (meaning no install needed) Windows Sysinternals Autoruns. Look in the Logon tab & disable other stuff that does not need to be in startup & run all the time in the background while you are there. Reboot.

Download & un-zip SonyBiosPatch_20100925.exe or the newer version linked above OR ask your battery reseller for a newer one for your model if that one does not work and send me an email so I can share the info on this page!

Plug your laptop with your original OEM battery in it, disconnect all peripherals: mouse, web connection, network connections, external drives, etc. and switch off the Wireless next to the HDD LED, kill all programs showing on your taskbar & disable the anti virus. I did NOT run it in Safe Mode so I don't know if it works in that mode.

Run BiosPatch.exe, and if the patch is good for your model, accept and select the File Mode in the next window & don't do anything or press any key until it's fully completed (a few minutes) & shuts down automatically your VAIO VPCF.

Contrary to their instructions, the Vaio F did not turn on automatically after shutting down. No worries, after waiting 15 seconds or so, boot the F with the OEM battery still in it. Shut down the laptop after it fully booted to desktop (meaning when the front edge amber hard drive LED activity indicator turns off & stops flickering).

Disconnect the Vaio F Series, remove the OEM battery, press the main power button for at least 5 seconds to drain the residual power and insert the 3rd party battery. As the OEM, only 1 lock latch is spring loaded so make sure to close the other one properly.

Plug the F laptop & reboot. The battery should be charged @ approximately 40 to 60%, just use (or not) your F normally until it's fully charged. Charging a battery makes it hot, heat is the ennemy of these rechargeable batteries so you should wait an hour or 2 for it to cool off before unplugging the notebook & running on your new battery until it's fully discharged. Go to your power plan settings & set Critical battery & Reserve level to 5%. Key S1 > Vaio Control Center > Vaio Power Management Viewer > Advanced. Or: Start > Control Panel\All Control Panel Items\Power Options, > go to your current active plan > Advanced options. I had set mine on the first run to 3% & because the battery meter's estimation was skewed, Windows did not shut down properly as not enough power was remaining in the battery so 5% is better. BTW I prefer: Critical Battery action: Shut Down instead of the default Hibernate.

Let the battery cool off before charging it again @ 100%. You can use the F or not, no problems. This is necessary to calibrate the battery meter: a full charge, a full discharge & a full charge again. The battery meter needs to know what is 100% and what is 0% for a given battery otherwise the estimated remaining battery life data will be skewed.

If you plan on storing the OEM 6-cell, as recommended on many sites: discharge it to 40%, put it in a sealed bag/container to protect it from humidity (Silica gel pouch helps) and put it in a refrigerator (not in a freezer!).
-------------------------------------
Meanwhile:
As of 2012-09-17 I have been using this battery since 2 years, all is OK, battery wear is only 1% and zero problem with the laptop.

The third party Vaio battery has 30~33% more capacity & battery life than the regular 6 cells VGP-BPS21A Vaio F OEM battery as benchmarked below. With a 5% reserve level and because it's 5% of a bigger battery: the 3rd party has 13 minutes running time remaining with my settings while it's 8 min. for the OEM Vaio 6-cell. Note that your actual remaining time is relative to your actual tasks/connected peripherals/discharge rate. The original Sony 9-cell VGP-BPL21 has 50% more capacity vs. the OEM 6-cell VGP-BPS21A and is less bulky than the 3rd party battery as illustrated by the photos below. The 9-cell OEM has about 12.8% more capacity vs. the 3rd party but is 300% more expensive. Everything is relative.

For the price of one OEM VGP-BPL21, I can get 3 of those ebay batteries for a total of 12 hours of battery life. I travel to remote locations w/o electricity & we often have power outage here so this is a big plus for me. The seller marked the package as GIFT with a declared value of $10 which saved me an annoying 4 hours round-trip (50% of it on dirt roads) to the bureaucratic customs. It took 3 weeks from ordering to my door.

The Vaio battery replacement is advertised as having a 11.1v/7,200 mAh capacity, exactly like the discontinued OEM VGP-BLP13 showed as for the FW but not the F on Sony US & Sony UK as the F was not even on the market at the time: mine has a real world full charge of 74,390 mWh & battery utilities report: Designed capacity: 73,260 mWh. Compare this to the VGP-BPL21 (FW & F compatible) advertised @ 10.8v/7,500 mAh (81,000 mWh). See Battery Capacity Conversion for the math.

It helps natural cooling by air convection by lifting the back of the laptop.

It gives a better keyboard typing angle.

The OEM 6 cells weighs on my scale 313 g*, the 3rd party battery weighs 470 g while the power adapter brick w/ it's cables weighs 620 g which means that the brick stays @ home or in the car much more often in my case & no need for wall plug hunting so often. According to this Sony UK VGP-BPL21 9-cell page: 490 g and only 3 months warranty compared to 3 years for the HK guys (if they are still around ). *If you live in the last major country on the planet that's not metric yet, check this or use this grams to ounces calculator.

The Vaio Battery Care function works & limited the charge to 80% in a test as I specified in the S1 > Power Management > Battery > Enable Battery Care Function. This utility shortens the battery life (how long your F will run on a given battery) because it gets charged only at 50 or 80% depending on your choice but that extends the battery's lifetime (how long it will last before needing a replacement battery).

It's bulkier than the OEM large battery: if the large OEM is like a regular battery with 1/2 of it stacked on top, the 3rd party is like 2 regular batteries on top of each other even if it's 20 g lighter. Because of this, it limits how far back you can tilt the screen. See the two photos below with the lid tilt back to the maximum. Because the OEM large battery also lifts the back of the laptop, it also limits the tilting angle but I guess not as much. My workaround for this if I need more tilt back angle in a given situation is to lift the front of the notebook using 3 tictac boxes under the 3 front rubber feet. The tictac boxes work great because they are not perfectly rectangular and their profile wedge shape makes it very easy to level the notebook by sliding them back & forth. Besides, they are made of flexible plastic & absorbs vibrations to/from the desk surface. On the plus side: I now always have some tasty mints handy, it helps natural underside ventilation even more & brings down further the fan's rpm.

When I ordered, only the silver color was available but I don't care since I don't see it when using the machine.

If money is not object, get the OEM VGP-BPL21. If you want the best bang for the buck, I recommend the 3rd party 9-cell I found. Naturally, it's relative to your criteria considering the trade-offs described in this article.
Exact same Vaio F running the exact same customized power plan & tasks using BatteryBar Pro to make the graphs: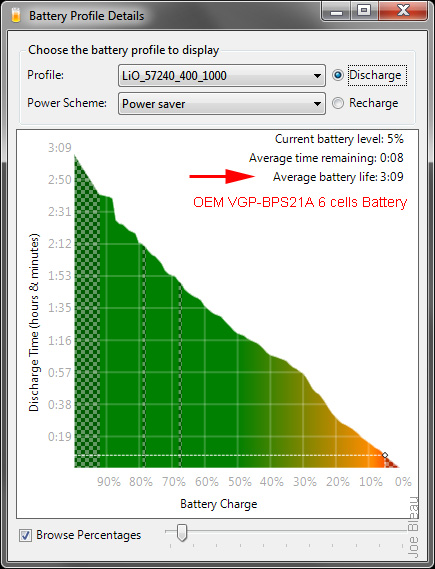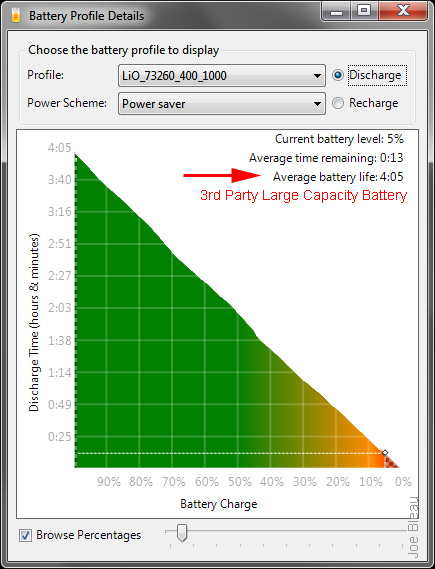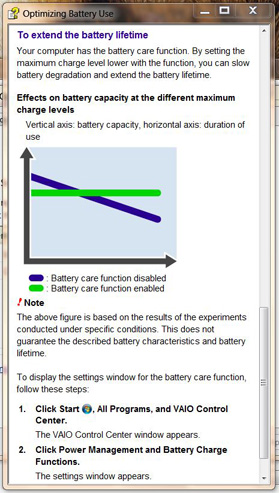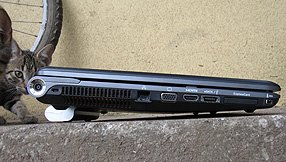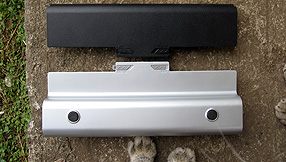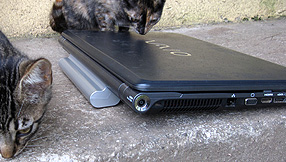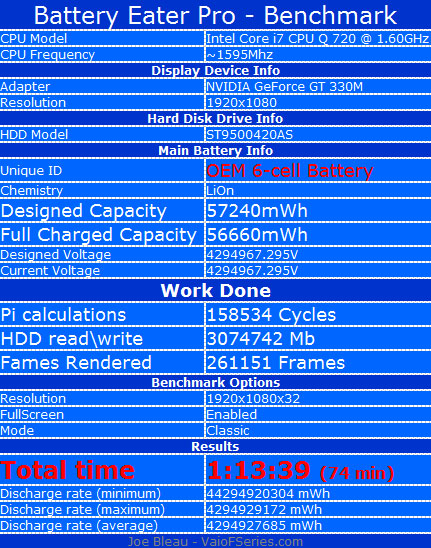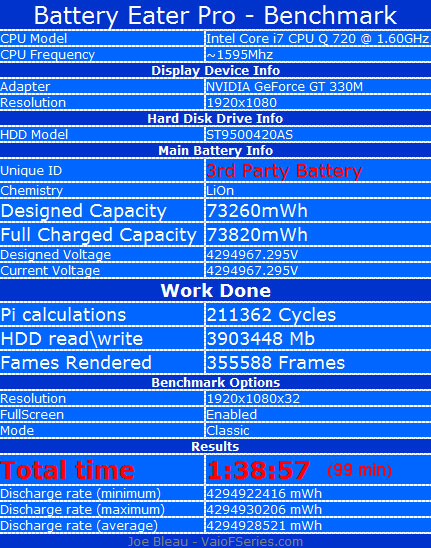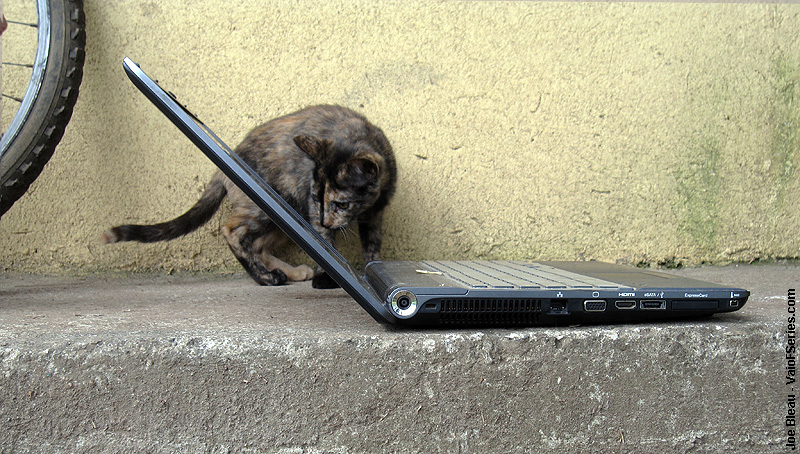 Maximum tilt back angle w/ OEM 6-cell battery in relation to the keyboard or desk: 136° approx.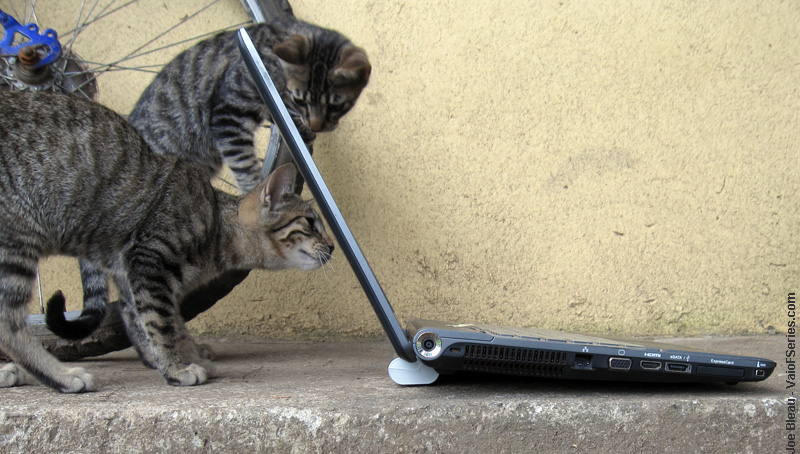 Maximum tilt back angle w/ Third party 9-cell battery in relation to the keyboard: 122° approx. and 117° in relation to the desk.

Pros & Cons, more photos & benchmarks coming soon!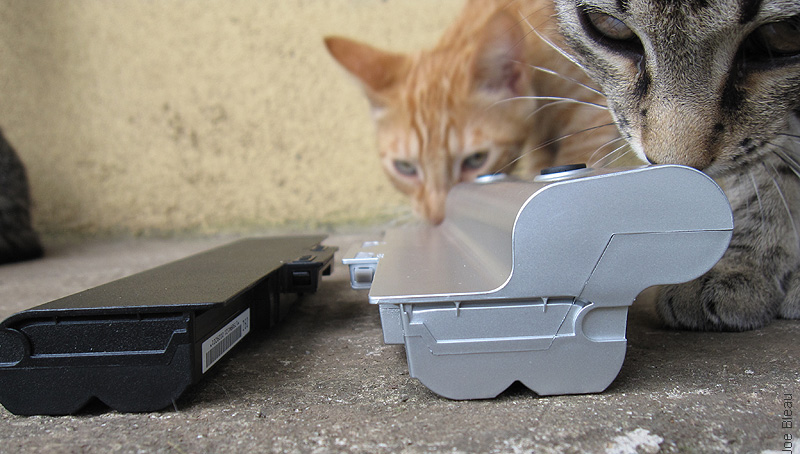 ---------------------------------------------------------------------------------------------------------------
Vaio F Series Windows 7 64-bit Clean Install Guide Using OEM Recovery Discs

------------------------------
How to install a secondary hard drive in the optical drive bay of a VAIO VPCF Series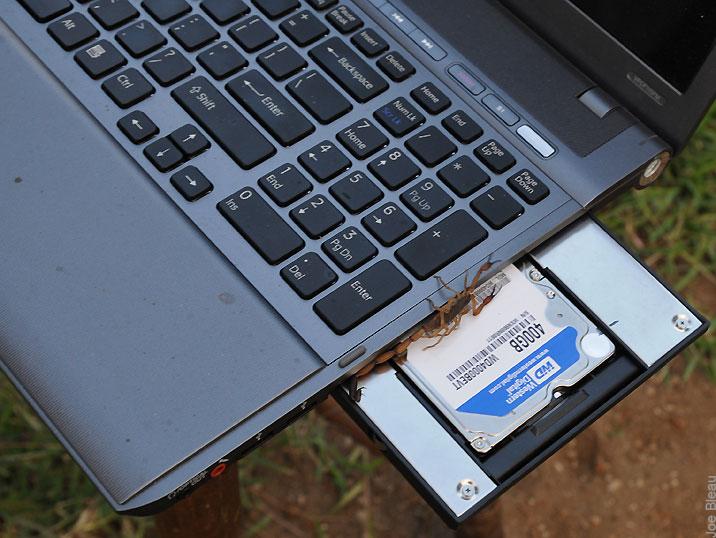 --------------------------------------------------------------------------------------------
Vaio F Series Laptop How To Replace the LCD Display & Inverter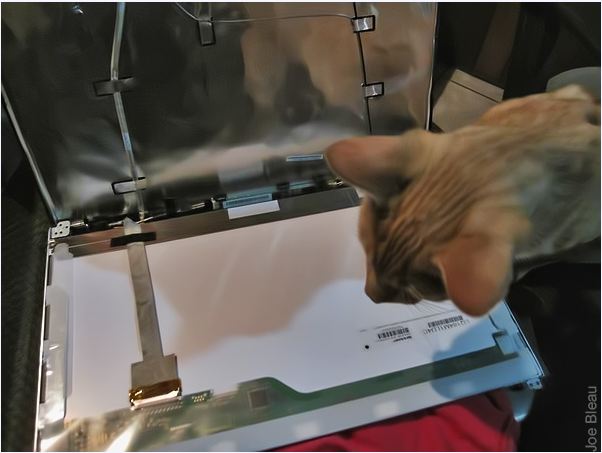 ---------------------------------------------------------------------------------------------------
Vaio F Series Monitor Calibration and Users Created Profiles Roundup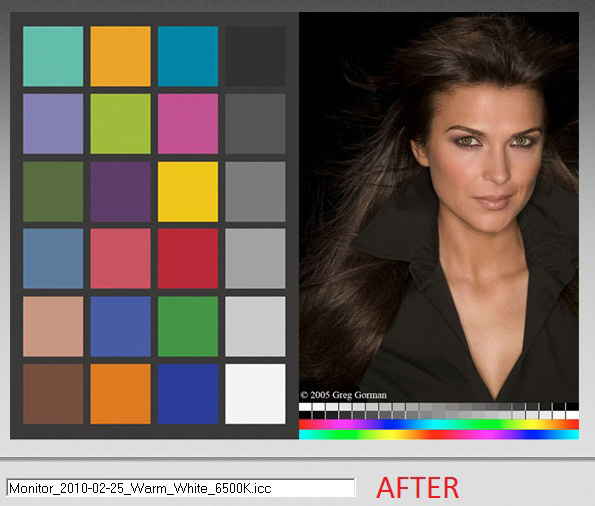 -----------------------------------------------------------------------------------------------------
Vaio F Series - How To Replace the Keyboard & Clean the Fan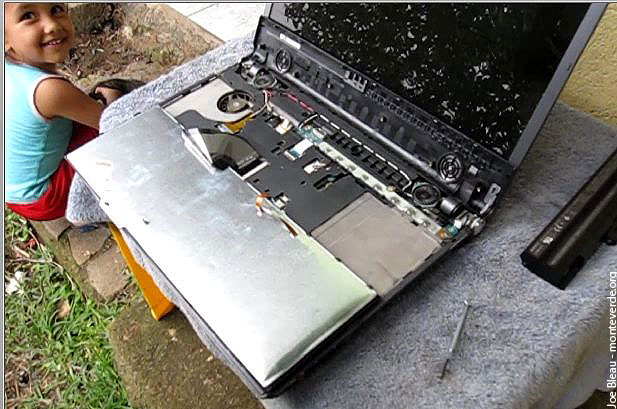 -------------------------------------------------------------------------------------------------------
How To Guides for the Vaio F Series: | Clean Install using the OEM Recovery Discs | Calibrate the Monitor | Replace the Display and/or the Inverter | Replace The Keyboard or Clean the Fan | Add a Secondary Hard Drive | Replace the Main Hard Drive | VAIO F Series Disassembly Guide - Teardown | 3rd Party Battery: $70/4 hours Battery Life!

You can contribute to the VaioFSeries.com mini-site I'm currently building by clicking
Not easy to put
together:
The Crazy Matrix
of all the
Vaio F Series Models
so far!
VPCF111FX
VPCF111FX/B
VPCF111FX/H
VPCF112FX
VPCF112FX/B
VPCF112FX/H
VPCF113FX
VPCF113FX/B
VPCF113FX/H
VPCF114FX
VPCF114FX/B
VPCF114FX/H
VPCF115FM
VPCF115FM/B
VPCF116FX
VPCF116FX/B
VPCF116FX/H
VPCF117FX
VPCF117FX/B
VPCF117FX/H
VPCF1190X
VPCF119FX
VPCF119GX
VPCF119HX
VPCF11AFX
VPCF11AFX/B
VPCF11BFX
VPCF11BFX/B
VPCF11CGX
VPCF11CGX/B
VPCF11DGX
VPCF11DGX/B
VPCF11EGX
VPCF11EGX/B
VPCF11FGX
VPCF11FGX/B
VPCF11GGX
VPCF11GGX/B
VPCF11HGX
VPCF11HGX/B
VPCF11JFX
VPCF11JFX/B
VPCF11KFX
VPCF11KFX/B
VPCF11KFX/H
VPCF11LFX
VPCF11LFX/B
VPCF11LFX/H
VPCF11MFX
VPCF11MFX/B
VPCF11NFX
VPCF11NFX/B
VPCF11NFX/H
VPCF11PFX
VPCF11PFX/H
VPCF11QFX
VPCF11QFX/B
VPCF11QFX/H
VPCF121FX
VPCF121FX/B
VPCF121FX/H
VPCF121GX
VPCF121GX/B
VPCF121GX/BC
VPCF122FX
VPCF122FX/B
VPCF122FX/H
VPCF123FX
VPCF123FX/B
VPCF123FX/H
VPCF125FX
VPCF125FX/B
VPCF125FX/H
VPCF126FM
VPCF126FM/B
VPCF127FX
VPCF127FX/B
VPCF127FX/H
VPCF1290X
VPCF12AFM
VPCF12AFM/H
VPCF12BFX
VPCF12BFX/B
VPCF12BFX/H
VPCF12CFX
VPCF12CFX/B
VPCF12CFX/H
VPCF12DFX
VPCF12DFX/B
VPCF12FFX
VPCF12FFX/B
VPCF12GFX
VPCF12GFX/B
VPCF12HFX
VPCF12HFX/B
VPCF12JFX
VPCF12JFX/B
VPCF12KFX
VPCF12KFX/B
VPCF12LFX
VPCF12LFX/B
VPCF12LFX/H
VPCF12LGX
VPCF12LGX/B
VPCF12MGX
VPCF12MGX/H
VPCF12NGX
VPCF12NGX/B
VPCF12PGX
VPCF12PGX/B
VPCF12QGX
VPCF12QGX/B
VPCF12RGX
VPCF12RGX/B
VPCF12SGX
VPCF12SGX/B
VPCF12THX
VPCF12THX/H
VPCF12UGX
VPCF12UGX/B
VPCF12VGX
VPCF12VGX/B
VPCF12XHX
VPCF12XHX/B
VPCF12YFX
VPCF12YFX/B
VPCF12YFX/H
VPCF12ZFX
VPCF12ZFX/B
VPCF12ZFX/H
VPCF132FX
VPCF132FX/B
VPCF132FX/H
VPCF133FX
VPCF133FX/B
VPCF133FX/H
VPCF134FX
VPCF134FX/B
VPCF134FX/H
VPCF136FM
VPCF136FM/B
VPCF136FM/H
VPCF136FX
VPCF136FX/B
VPCF136FX/H
VPCF137FX
VPCF137FX/B
VPCF137FX/H
VPCF1390X
VPCF13AFX
VPCF13AFX/B
VPCF13BFX
VPCF13BFX/B
VPCF13CGX
VPCF13CGX/B
VPCF13DGX
VPCF13DGX/B
VPCF13EFX
VPCF13EFX/B
VPCF13FGX
VPCF13FGX/B
VPCF13GGX
VPCF13GGX/B
VPCF13HFX
VPCF13HFX/B
VPCF13JFX
VPCF13JFX/B
VPCF13KGX
VPCF13KGX/B
VPCF13LGX
VPCF13LGX/B
VPCF13MGX
VPCF13MGX/B
VPCF13NFX
VPCF13NFX/B
VPCF13PFX
VPCF13PFX/B
VPCF13QFX
VPCF13QFX/B
VPCF13SFX
VPCF13SFX/B
Joe Bleau's avatars: